Junjou Romantica (純情ロマンチカ, lit. Pure-Hearted Romantica) is an anime series produced by Studio Deen. It is based on the manga series of the same name created by Shungiku Nakamura.
The first episode premiered in Japan on TV Hokkaido on April 10, 2008. The first season ran for twelve episodes until its conclusion on June 26, 2008. A second season premiered on the same channel on October 12, 2008, where it also ran for twelve episodes. A third season premiered seven years later on July 9, 2015, and also ran for twelve episodes.
Plot overview
Misaki Takahashi is a regular high school student who is preparing for his university entrance exams. In order to reduce the stress of studying, or so he hopes, he accepts the help of his older brother's best friend, and famous author, Akihiko Usami. However, Masaki is about to find out that Usami's books are of a very naughty genre, and that there may be something naughty waking up inside Masaki as well.
Junjou Romantica also follows the story of two other couples loosely connected to Masaki and Usami's "Romantica."
Egoist shows the very passionate, but often complicated, relationship between university professor Hiroki Kamijou (whose life has reached an all-time low) and paediatrician Nowaki Kusama, who falls for Hiroki at first sight and would do anything to make him happy.
The third story, "Terrorist," shows just how obsessive love can become when rich eighteen-year-old Shinobu Takatsuki finally discovers something that he cannot have so easily—the literature professor Yoh Miyagi.
There is passion abound as these three couples try to achieve their goals in life while also falling into temptation and anguish with their partners.[1]
List of episodes
Season 1
Episode
Overall
Title
Couple
First Aired
01
01
Truth is stranger than fiction
Junjou Romantica
April 10, 2008
02
02
No use crying over spilt milk
Junjou Romantica
April 17, 2008
03
03
Knock and it shall be opened unto you
Junjou Egoist
April 24, 2008
04
04
Fear is often greater than the danger itself
Junjou Romantica
May 1, 2008
05
05
Meeting in the beginning of parting
Junjou Egoist
May 8, 2008
06
06
Good can come out of misfortune
Junjou Egoist
May 15, 2008
07
07
Spare the rod and spoil the child
Junjou Romantica
May 22, 2008
08
08
Away from home, one needs feel no shame
Junjou Romantica
May 29, 2008
09
09
One good turn deserves another
Junjou Minimum
June 5, 2008
10
10
Boys, be ambitious
Junjou Terrorist
June 12, 2008
11
11
All things are easy that are done willingly
Junjou Terrorist
June 19, 2008
12
12
Even a chance acquaintance is preordained
Junjou Romantica
June 26, 2008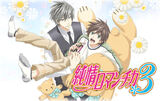 Season 3 adaption was confirmed on July 30, 2014 and it was first aired on mid 2015. It also features an episode on Junjou Mistake which holds a volume in the manga outside of Junjou Romantica.




Season 3
Episode
Overall
Title
Couple
First Aired
01
25
All good things must come to an end
Junjou Romantica
July 9, 2015
02
26
Failing to plan is planning to fail
Junjou Romantica
03
27
Finding Hen's Teeth
Junjou Romantica
04
28
Where there's a will, there's a way
Junjou Terrorist
05
29
Even the longest journey begins with a single step
Junjou Romantica
06
30
A bolt from the blue
Junjou Romantica
07
31
The darkest place is under the candlestick
Junjou Mistake
08
32
A Jealousy too hot may burn a man pair
Junjou Romantica
09
33
A battle of Irreconcilable Enemies
Junjou Romantica
10
34
Hours are like days to lovers parted
Junjou Egoist
11
35
Labor for love
Junjou Romantica
12
36
True Love is Fate
Junjou Romantica
OVA
(2 Episodes)
All four couples
2012-2015
Music
Each season has a unique opening and ending theme song.
The series also has two original soundtracks.
See List of Junjou Romantica Songs for more information.
References